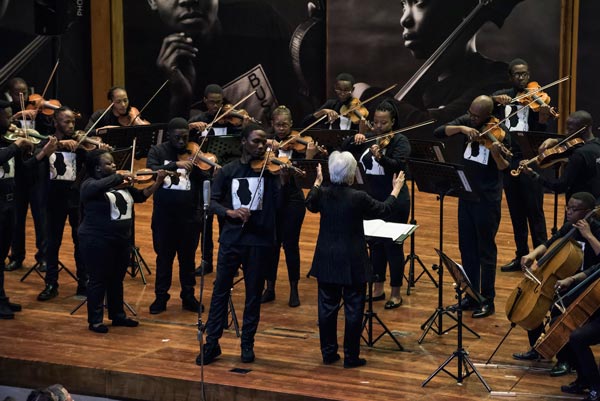 (PRINCETON, NJ) — The Princeton Symphony Orchestra (PSO) will present the fourth concert in its online Buskaid – A Musical Miracle series showcasing South Africa's renowned Buskaid Soweto String Ensemble. Curious Creatures and a Heavenly Harp will be available on demand Friday, April 30 – Sunday, May 2. Performed works include Capriccio Stravagante by Carlo Farina, Claude Debussy's Danse sacrée et danse profane with guest harpist Jude Harpstar, and Felix Mendelssohn's String Symphony No. 10. Buskaid-trained violinist Mzwandile Twala performs Fritz Kreisler's Praeludium and Allegro. Completing the musical array are beloved pop songs and dynamic kwela music. Buskaid founder Rosemary Nalden conducts.
Italian composer Carlo Farina's early Baroque Era work Capriccio Stravagante mimics animal sounds through a variety of instrumental performance techniques, while Kreisler's Praeludium and Allegro is written "in the style of" Baroque violinist and composer Gaetano Pugnani. Debussy's Danse sacrée et danse profane (Sacred and Profane Dances) juxtaposes the solemn and the sensuous, and Mendelssohn's String Symphony, written when he was just 14, offers a glimpse of the composer as child prodigy.
Guest harpist Jude Harpstar is an award-winning artist who mesmerizes crowds with her dynamic and exhilarating performances on harp and piano. She has traveled the world performing to diverse crowds and has won numerous accolades, amongst them the Yamaha Competition 2004 as pianist and two International Awards for "Best Acoustic Song" and "Best Pop/Adult/Contemporary EP" in The Independent Music Awards with her duo LU FLUR. She was also the soloist on Caroline Leisegang's album entitled Øyeblikk, which won South African Classical Album of the Year in 2015.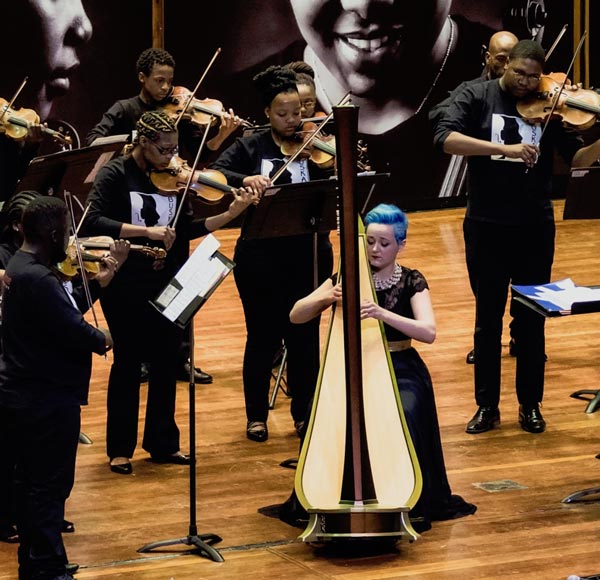 Each Buskaid soloist and all the musicians making up the Buskaid Soweto String Ensemble received rigorous, multi-year training at the Buskaid Music School in Soweto before joining Buskaid's touring ensemble.
Buskaid violinist Mzwandile Twala was born in 2000, and was brought to Buskaid at the age of 3 by his foster grandmother, with whom he lived in another suburb of Soweto. He was one of the youngest children to start learning the violin at Buskaid, and his first individual teacher was Keabetswe Goodman, one of Buskaid's assistant violin teachers. At the age of 6, he started showing signs of prodigious talent, and was then taught by Rosemary Nalden, who has been his teacher ever since. In 2018, he gained his DipABRSM with Distinction and is now the leader of the Buskaid Ensemble, as well as an assistant teacher at Buskaid.
Access to each concert in the Buskaid – A Musical Miracle series is $5 per unique device link, and includes on-demand viewing of the concert over the course of a 3-day weekend. Look for a new Buskaid on-demand concert each month. To purchase, call 609-497-0020 or visit princetonsymphony.org.
Buskaid is an organization which offers high quality string teaching to less privileged children and young people in the township of Soweto. In 23 years, it has produced a world-class Ensemble, which has undertaken 26 highly successful international tours. Buskaid also runs an inhouse teacher-training scheme, and currently employs twelve Ensemble members as assistant and trainee teachers. Buskaid offers a safe haven to the 120 children currently attending its Music School, many of whom battle with difficult personal circumstances. Studying and playing music improves their self-esteem – and for some, provides a welcome path to skilled employment.
Founder of Buskaid and Director of the Buskaid Music School in Soweto, Rosemary Nalden was born
in England and educated in New Zealand, where she graduated with a Bachelor of Arts in Languages before studying viola and singing at the Royal College of Music in London. She freelanced in London for over 30 years, playing under such conductors as Sir John Eliot Gardiner, Sir Roger Norrington, and Sir Simon Rattle. Teaching has played an important role in Rosemary's professional life. She employs a highly specialized teaching approach pioneered by the late Paul Rolland. Her combined interest in performance practice and teaching has placed her in a unique position to develop the innate musicianship and stylistic flair of her young South African students. In 2002, Rosemary was awarded an MBE in the Golden Jubilee Queen's Birthday Honours List, in recognition of her work with Buskaid.
The Princeton Symphony Orchestra (PSO) is a cultural centerpiece of the Princeton community and one of New Jersey's finest music organizations, a position established through performances of beloved masterworks, innovative music by living composers, and an extensive network of educational programs offered to area students free of charge. Led by Edward T. Cone Music Director Rossen Milanov, the PSO presents orchestral, pops, and chamber music programs of the highest artistic quality, supported by lectures and related events that supplement the concert experience. Through PSO BRAVO!, the orchestra produces wide-reaching and impactful education programs in partnership with local schools and arts organizations that culminate in students attending a live orchestral performance. The PSO receives considerable support from the Princeton community and the New Jersey State Council on the Arts, regularly garnering NJSCA's highest honor. Recognition of engaging residencies and concerts has come from the National Endowment for the Arts, and the PSO's commitment to new music has been acknowledged with an ASCAP Award for Adventurous Programming and a Copland Fund Award. The only independent, professional orchestra to make its home in Princeton, the PSO performs at historic Richardson Auditorium on the campus of Princeton University.
originally published: 04/13/2021
---
---
---
---
---