This blog is now closed. A summary of key recent developments can be found here. For up to date coverage of the coronavirus pandemic, head to the link below:
Covid-19 will eventually have to be managed in a similar manner as serious seasonal viruses such as flu, England's chief medical officer has said.
Speaking at a Royal Society of Medicine webinar, Prof Chris Whitty said it was 'not realistic' to believe border policy could stop new variants of coronavirus entering the UK:
Alcoholic drinks will be prohibited in French parks and other outdoor public spaces as part of the new limited nationwide lockdown to stem the Covid-19 crisis, Prime Minister Jean Castex announced Thursday, AFP reports.
Addressing the National Assembly, Castex also said authorities would be quick to disperse groups of more than six people on riverbanks or squares after the new restrictions unveiled by President Emmanuel Macron late Wednesday.
Castex said he "unreservedly" condemned people who had not been respecting the rules, after images emerged of beer-swigging crowds on riverbanks in the spring sunshine in cities including Paris and Lyon.
Meanwhile, prosecutors should "systematically" probe organisers of clandestine parties for putting the lives of others in danger, he added.
By decreeing school closures and systematic work-from-home protocols, Macron hopes to ease pressure on hospitals facing a new surge in coronavirus cases that are overwhelming intensive care units.
But he refrained from demanding that people stay in their homes or avoid socialising completely, and authorised travel between regions over the coming Easter weekend.
The measures were met with a mix of resignation and anger, despite Macron's suggestion that France could begin envisioning a return to normalcy by mid-May.
"Lockdown, the sequel… and the end?" Le Figaro headlined its front page Thursday, while mass-market Le Parisien said Macron was defending his strategy of "slowing without shutting down" even though "the situation has never been so dangerous or complicated".
Here is a quick recap of recent Covid-related events from around the world:
India's temporary hold on the Covid-19 vaccine, Oxford/AstraZeneca, will undermine Africa's vaccination plans and potentially have a "catastrophic" impact, the head of the continents disease control body said on Thursday.
The Canadian province of Ontario will enter a lockdown for at least four weeks on Saturday.
France records 50,659 new coronavirus cases on Thursday and 308 new deaths in hospital, Reuters reports.
Mexico reports 5,381 new confirmed cases of Covid-19 and 454 more fatalities, bringing the country's total to 2,244,268 infections and 203,664 deaths.
Police on horseback charged a crowd of people gathered in a Brussels park on Friday for a fake concert announced on social media as an April Fool's Day prank.
Brazil's biggest city sped up efforts to empty old graves to make room for Sao Paulo's record daily burials this week. They also registered 91,097 new cases of Covid-19 and 3,769 deaths, the health ministry reports.
The Irish government has added 26 countries to a list of states subject to mandatory hotel quarantine on arrival.
After months of resistance from the president, Madagascar joins the COVAX vaccine sharing programme, the health minister announced on Thursday, following a recent pledge to rollout Covid-19 jabs.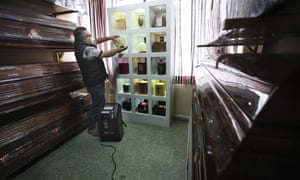 Madagascar joins the COVAX vaccine sharing programme the health minister announced on Thursday, following a recent pledge to rollout Covid-19 jabs after months of resistance from the president.
President Andry Rajoelina took a hard-line stance against jabs that other governments had gone to secure, meaning that vaccinations have yet to begin on the island nation.
The president instead defended a locally made herbal infusion he claims is a "cure" for coronavirus. Rajoelina said last month that he was in no rush to launch a mass inoculations programme for his citizens or himself.
AFP reports:
Heavy criticism forced him to make a U-turn last week, when his office said the government would "seek" and "use" vaccines against Covid-19. Health Minister Jean Louis Hanitrala Rakotovao on Thursday said Madagascar had successfully signed up for vaccine procurement through the Covax facility.

"There are still many stages to go through, but we have made a first step," Rakotovao announced on a video posted online by the health ministry.

The presidency has not yet disclosed which jabs would be procured. Madagascar is struggling to curb a second wave of coronavirus infections, likely due to the presence of a highly transmissible variant first detected in South Africa.

Rakotovao told local media on Thursday that the number of severe cases had risen and warned that hospitals were running out of oxygen.
The Irish government has added 26 countries to a list of states subject to mandatory hotel quarantine on arrival. But, the list did not include additional countries from the EU or the United States.
The states that were added on Thursday are: Albania, Andorra, Aruba, Bahrain, Bonaire, Sint Eustatius and Saba, Ethiopia, Israel, Jordan, Kosovo, Kuwait, Lebanon, Moldova, Monaco, Montenegro, Nigeria, North Macedonia, Oman, Palestine, Philippines, Puerto Rico, Qatar, Saint Lucia, San Marino, Serbia, Somalia and Wallis and Futuna Islands.
Reuters reports:
According to a report in the Irish Independent newspaper, the government had been advised by the Chief Medical Officer to add 43 countries, including the United States, France, Germany and Italy, to a list of jurisdictions subject to 12-day hotel quarantine on arrival.

A decision regarding "additional states will be considered in advance of the next Government meeting", said the Minister for Health and the Minister for Foreign Affairs in a joint statement.

[…]

Ireland has some of the strictest travel restrictions in the European Union and last week followed England in bringing in hotel quarantine for arrivals of people from countries deemed "high risk" or those without a negative COVID-19 test.

Including the new additions, there are 58 countries on the "designated States" list, most of which are in the Middle-East, Africa, Central and South America.

Austria is currently the only EU member on the list. Arrivals must quarantine for up to 14 days in a hotel room or can leave after 10 if they test negative for COVID-19.

Travellers from newly-added states will have to book accommodation for mandatory hotel quarantine if they intend to arrive in Ireland after 4 am on April 6. The Republic of Mauritius was removed from the list.
Brazil registers 91,097 new cases of Covid-19 and 3,769 new Covid related deaths, the health ministry reports.
According to ministry data, Brazil has registered nearly 13 million cases since the pandemic began, while the official death toll has risen to 325,284.
Covid-19 vaccine delays hit vulnerable communities in Melbourne, Australia, as community health workers built trust in the towering Richmond housing estate.
The team had been told to expect roughly 100 doses per week from 22 March, a supply so low that it had already caused concern among staff.
The first shipment was only 80 doses.
The second shipment never arrived – forcing staff to suddenly cancel vaccination clinics on estate residents and others in the community, wasting weeks of planning.
My colleague Christopher Knaus has more on the vaccine delays in Melbourne:
Due to the rising death toll, Brazil's biggest city sped up efforts to empty old graves to make room for Sao Paulo's record daily burials this week.
Gravediggers in the Vila New Cachoeirinha cemetery worked in white hazmat suits as they bagged decomposed remains to move them to another location.
The municipal secretary responsible for funeral services said in a statement that relocating remains is standard in cemetery operations. However, since the pandemic worsened, the practice has taken on renewed urgency.
Reuters reports:
On Wednesday, Brazil's health ministry registered its highest daily COVID-19 death toll for the second day in a row, with 3,869 people succumbing to the virus.

Brazil's outbreak is the second-deadliest in the world after the United States, averaging about 3,000 deaths and 75,500 new cases per day over the past week – a rate that has climbed steadily since February.

Sao Paulo has also resorted to late-night burials to keep up with demand, with some cemeteries authorized to stay open until 10 p.m.. In the Vila Formosa cemetery, workers in masks and full protective gear have been digging rows of graves under flood lights and a full moon this week.

The coffins have followed. A 32-year-old man lowered down in a plain wooden box. A 77-year-old woman, whose masked relatives gathered near the grave.

The city of Sao Paulo registered 419 burials on Tuesday, the most since the pandemic began. If burials continue at that pace, city hall said it will need to take more contingency measures, without specifying.

Brazil currently accounts for about a quarter of COVID-19 daily deaths worldwide, more than any other country.

Infectious disease experts warn that it will only get worse, given President Jair Bolsonaro's attacks on efforts to restrict movement and a slow rollout of vaccines.