June 03, 2021
The eighth annual Carnegie Mellon University in Africa graduation ceremony took place on Sunday, May 23. To celebrate the graduates while observing COVID-19 protocols, the diploma ceremony was livestreamed and conducted in a hybrid format. This year's graduating class comprised 66 graduates from 12 different countries in Africa. Forty-seven completed their master of science in information technology (MSIT) and 19 completed their master of science in electrical and computer engineering (MSECE).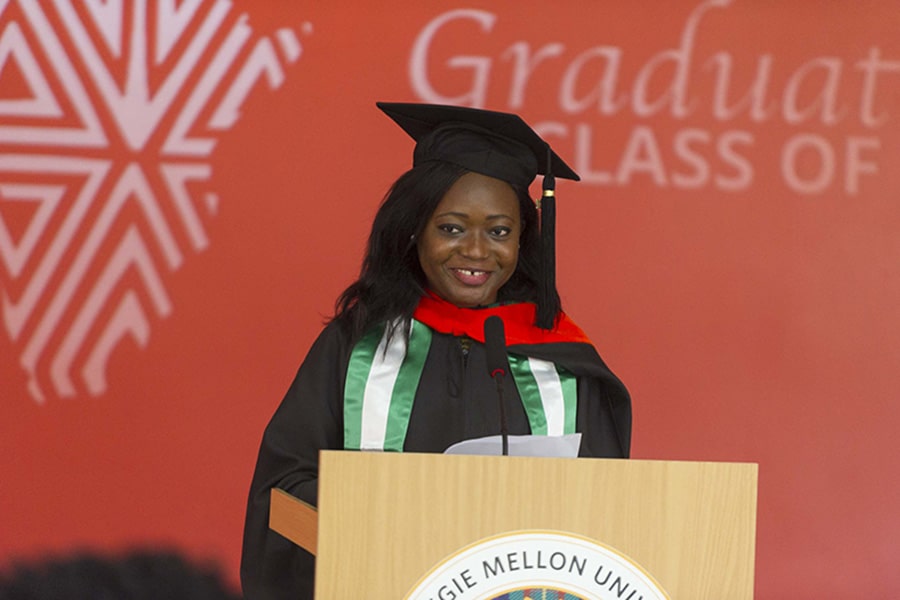 Student speaker Ozioma Paul delivers remarks.
The hybrid ceremony was moderated by CMU-Africa Executive Director Gbemi Disu, and the on-campus event was attended by CMU-Africa Director Vijayakumar Bhagavatula, CMU-Africa faculty and staff, student award winners, and student speaker Ozioma Paul. It included pre-recorded messages from the Honorable Dr. Valentine Uwamariya, Rwanda's minister of education; William H. Sanders, dean of CMU's College of Engineering; and keynote speaker Faith Keza, CEO of Irembo.
In his welcoming remarks, Bhagavatula noted, "Class of 2021, you're a special group. You had to deal with the challenges of meeting CMU-Africa's rigorous academic requirements remotely. Kudos to your ability to adapt to meet these challenges; your tenacity has paid off. Your journey at CMU-Africa was also enabled by other supporting partners. First of all, this campus wouldn't be here, but for the vision of the Government of Rwanda to bring Carnegie Mellon University to Kigali to educate the next generation of African technology leaders in Africa. Since 2016, Mastercard Foundation has been a great supporter through the Mastercard Foundation Scholars Program and you have received support from other organizations that raised funds from several other individuals who believed in you all."
Sanders encouraged the graduating class, emphasizing that they are the next generation of leaders, innovators and builders who will effect change and improve quality of life with talent and expertise.
"You have persevered in advancing your education through the rigors of a Carnegie Mellon education and have done so in the face of unexpected challenges," Sanders said. "As we begin to emerge from a truly unprecedented year, from a pandemic that's swept the globe, your bright light will have a new and unique opportunity to shine."
In the Keynote address, Keza shared her insight on knowing oneself and deciding how to spend time in life.
"Who we are isn't about what we do for a living," Keza said. "What we do for a living is certainly a large part of our identity, but what will carry us is building a resilient character and an authentic identity. We should examine and develop our characters as much as we develop our skills. I encourage you all to build or contribute to teams that are purpose-driven. You are all uniquely gifted, talented and privileged to decide today to live a life that feels true to you and also serves others. May your hearts be in your work."
The Class of 2021 is indeed composed of individuals that are gifted, driven and service-oriented. This year's student awards were presented by visiting professor Saranth Tannakkoon and instructor Moise Busogi. Boladji Vinny Adjibi (MSIT), Abrham Gebreselasie (MSECE) and Clare-Joyce Ngoran (MSECE) received the Lakshmi Subramanian Student Excellence Awards. Agripinna Mwangi, an MSECE graduate, received the Jeremiah N. Mpagazehe Rising Researcher Award.
Student speaker Ozioma Paul acknowledged the importance of community in achieving a milestone like graduating from CMU-Africa.
"They say 'it takes a village to raise a child.' It takes more than one person — it is a collaborative effort," Paul said. "Indeed, it has taken a village for me and every other Tartan graduating today."
Paul praised the CMU-Africa staff and faculty members for going above and beyond, thanking "everyone who believed in us and sponsored us. Thank you to the Mastercard Foundation, Smart Africa, MINDS, and other sponsors for making our journey a reality. Thank you for being a part of the village that has brought us here. Many of us wouldn't be able to afford this world class education but for you all, we are grateful."
The guest of honor, Minister Uwamariya recognized both the graduates and the CMU-Africa community for making it through a particularly challenging year and emphasized how crucial CMU-Africa is to the development of the continent.
"I take the opportunity to thank CMU-Africa for their flexibility and innovation in finding solutions to ensure the success of CMU-Africa's students during this difficult time," Uwamariya said. "The strategic partnership with CMU-Africa is one of the key strategies to help capacity building in science and technology in support of Rwanda's social and economic growth. To the graduating class, the networks you have forged during your time at CMU-Africa are important. You're graduating from a world class institution as future leaders, I encourage all of you to follow in the footsteps of your predecessors in contributing to the development of Rwanda and the continent."