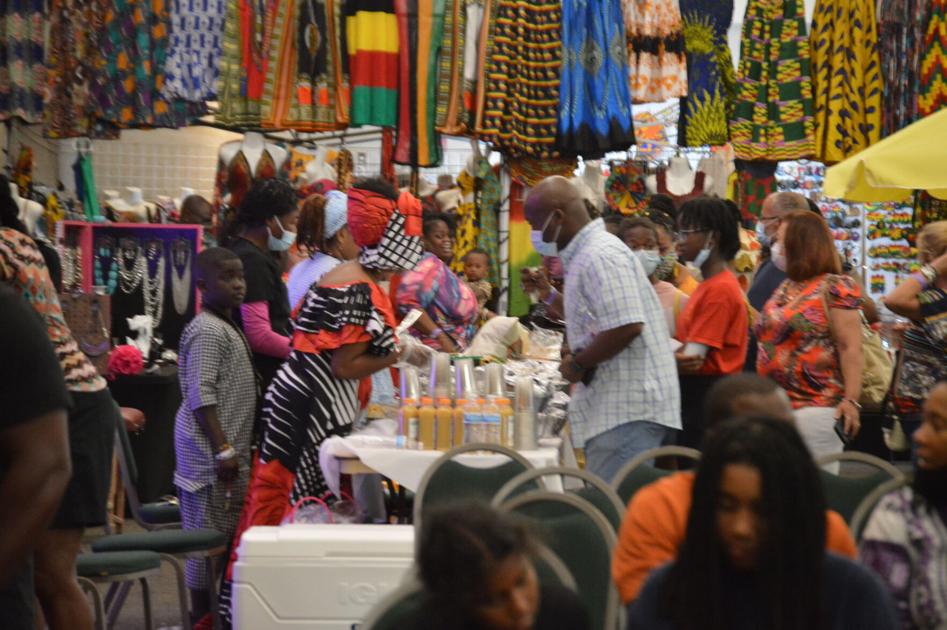 #inform-video-player-1 .inform-embed { margin-top: 10px; margin-bottom: 20px; }
#inform-video-player-2 .inform-embed { margin-top: 10px; margin-bottom: 20px; }
Hundreds of people from different cultures walked around the Killeen Civic and Conference Center Saturday, enjoying music, food and offerings of various vendors highlighting the many cultures of Africa.
The fourth annual event was being held for the first time since 2019. The coronavirus pandemic halted the event in 2020, said founder Rodney Duckett.
"You see the people are very eager to be here today," Duckett said.
He added that he was pleased with the turnout of people to the convention center.
"It's amazing, because we have a lot of connections," Duckett said. "… That's what this event is about — reconnecting."
Duckett referred to the event as a "humongous family reunion."
One of the people walking around, enjoying herself, was Killeen resident Wanda Turley, whose heritage goes back to the Cherokee Nation.
"It's (so) gracious to me to walk around to see the celebrations of my people," Turley said.
She added that it is so significant for many people from the Killeen and Central Texas area to come together and learn more about the African heritage.
Turley said she arrived at the event when it started at 11 a.m. and planned to stay through the stage play, "Aunt Pearlie's Kitchen," which was expected to end at 7 p.m.
She said her favorite thing was, "Just to look at all the different vendors bringing various things — not everyday things, but things of their culture — from the crystals and the ivories, from the various motherland attire, and then to see the wrap fashion show and the history of how it began."
Another gentleman embracing the cultures was Temple resident Evan Mongie.
"This is my first time going to a convention or anything since last March, so it's been nice to get out and see people again," Mongie said.
Mongie said he typically frequents events that celebrate different cultures and chose the Taste of Africa event because it looked like it had good food and entertainment.
"It was good choices, a lot of good variety, nice people, everybody's been super nice," he said. "I liked the Ethiopian food and coffee, which is great."
Dozens of vendors sold anything from fragrances, to clothing, to food and drink, to handmade goods.
On the stage, various groups provided musical entertainment.
Saturday's event was sponsored by IMPAC Outreach, a group that assists underserved communities in the Killeen area.
Organizers charged an entrance fee, which were to benefit IMPAC Outreach.
#inform-video-player-3 .inform-embed { margin-top: 10px; margin-bottom: 20px; }